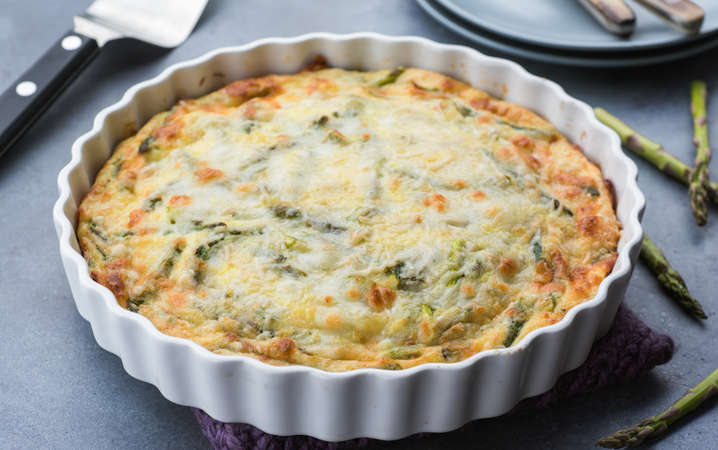 Ingredients
½ tbsp olive oil
8 oz asparagus
2 cups spinach
6 eggs
1 tbsp minced garlic
2 cups shredded mozzarella cheese
¼ cup shredded parmesan cheese
Directions
Step 1

Grease a 9-inch pie pan or cake tin. Preheat oven to 375 degrees F.

Step 2

Heat olive oil in a skillet over medium heat. Trim tough bottom ends off asparagus, then cut spears into 2-inch lengths. Place in the skillet and season with salt and pepper. Cook 3 minutes, until bright green. Transfer to a plate.

In this recipe

½ tbsp olive oil
8 oz asparagus

Step 3

Add spinach to the empty skillet and cook 2 minutes, just until slightly wilted. Transfer spinach to the prepared pan.

Step 4

In a bowl, whisk eggs and garlic until even in color. Season with salt and pepper. Whisk in half the shredded mozzarella. Pour over the spinach. Top with a layer of asparagus. Sprinkle with remaining shredded mozzarella and the parmesan.

In this recipe

8 oz asparagus
2 cups spinach
6 eggs
1 tbsp minced garlic
2 cups shredded mozzarella cheese
¼ cup shredded parmesan cheese

Step 5

Bake 20 to 30 minutes, or until set and golden.