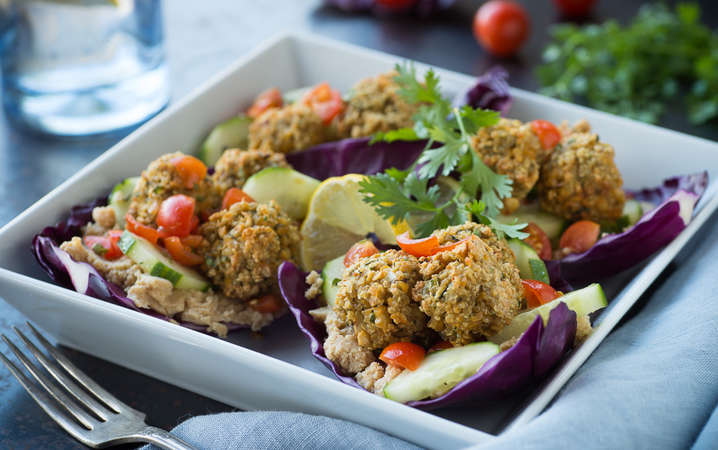 Ingredients
3 ½ cups canned chickpeas
½ yellow onion
⅓ cup fresh parsley
1 ½ tbsp minced garlic
1 ¾ tsp ground coriander
1 ¾ tsp cumin
½ cup flour
2 tsp baking powder
1 lemon
2 cucumbers
6 cups mixed greens
1 cup cherry tomatoes
1 cup hummus
Directions
Make the falafel:

Step 1

Preheat oven to 375 degrees. Drain and rinse chickpeas. Transfer to a mixing bowl and mash with a fork.

In this recipe

3 ½ cups canned chickpeas

Step 2

Peel and mince onion. Chop parsley. Add both to the bowl, along with garlic, ground coriander, cumin, flour, baking powder, 2 tsp lemon juice and a pinch of salt. Mix thoroughly.

In this recipe

½ yellow onion
⅓ cup fresh parsley
1 ½ tbsp minced garlic
1 ¾ tsp ground coriander
1 ¾ tsp cumin
½ cup flour
2 tsp baking powder
1 lemon

Step 3

Lightly flour a baking sheet. Form chickpea mixture into small balls and place on the prepared pan. Bake about 15 minutes, then flip and bake another 15 minutes, until browned.

Prepare salad:

Step 4

Dice cucumber and add to a large bowl, along with mixed greens and cherry tomatoes. Drizzle with another 8 tsp lemon juice.

In this recipe

1 lemon
2 cucumbers
6 cups mixed greens
1 cup cherry tomatoes

Step 5

Top salad with falafel and hummus.