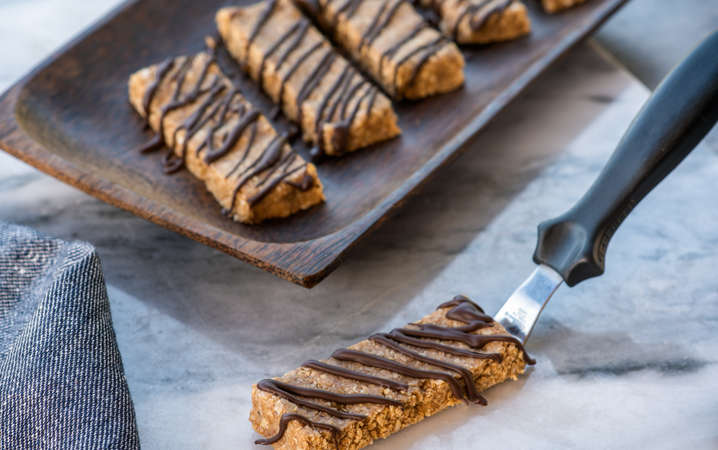 Ingredients
¾ cup rolled oats
1 rice cake
¼ cup protein powder
¼ cup peanut butter
2 tbsp maple syrup
½ tsp vanilla
¼ cup chocolate chips
Directions
Step 1

Line a rimmed baking sheet with parchment paper. In a food processor, blend rolled oats until broken down into a flour. Crumble rice cake into the food processor and pulse a few times until broken into small pieces. (There should still be some texture to the mixture.) Transfer to a large bowl and stir together with protein powder and a pinch of salt.

In this recipe

¾ cup rolled oats
1 rice cake
¼ cup protein powder

Step 2

Add peanut butter, maple syrup and vanilla to the bowl. Stir well to combine. (If the mixture is a bit dry, add a splash of milk or water and mix again.)

In this recipe

¼ cup peanut butter
2 tbsp maple syrup
½ tsp vanilla

Step 3

Press mixture into pan and pat into a smooth layer. Place in the freezer 5 to 10 minutes.

Step 4

Meanwhile, melt chocolate chips in the microwave in 30-second increments, stirring in between.

Step 5

Remove bars from freezer and drizzle with melted chocolate chips. Return to freezer 5 minutes, or until chocolate is set.

Step 6

Slice into 4 bars. Enjoy 1 per serving; store extras in an airtight container in the freezer for future snacking.