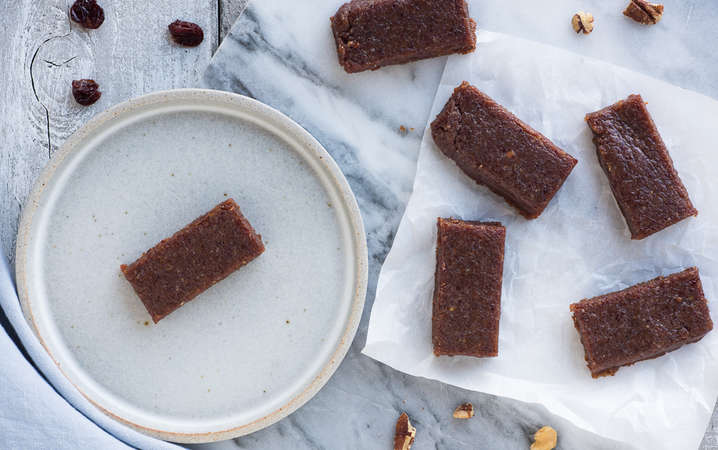 Ingredients
1 cup mixed nuts
½ cup dried cherries
6 pitted dates
Directions
Step 1

In a food processor, combine mixed nuts, dried cherries and dates. Pulse 2 to 3 times to break up the ingredients, then process continuously until the ingredients clump together into a large ball, scraping mixture down the sides and adding 1 tsp of water if needed to have the mixture come together.

In this recipe

1 cup mixed nuts
½ cup dried cherries
6 pitted dates

Step 2

Scoop mixture out onto a sheet of plastic wrap or parchment paper. Lay another sheet of plastic or parchment on top. Press the mixture down into a rough square, about 1 inch thick, using your hands or a rolling pin. Chill in the freezer 10 minutes.

Step 3

Cut into 4 bars, keeping the parchment on. Chill in the fridge until firm.

Step 4

Bars can be wrapped individually in plastic and stored in the fridge for 2 to 3 weeks, or in the freezer for up to 3 months.