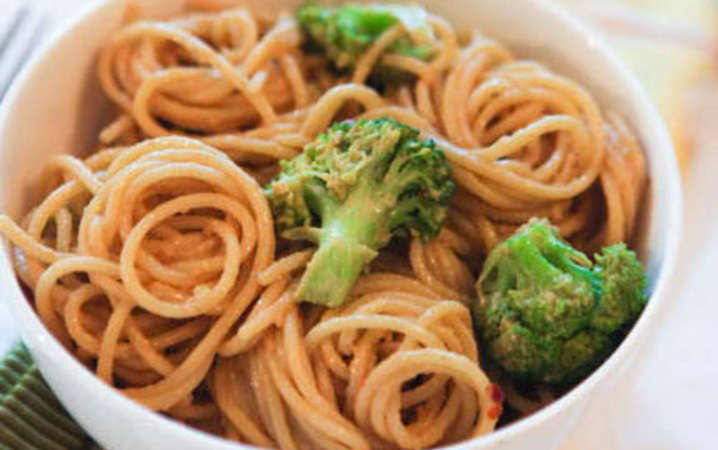 Ingredients
6 cups broccoli
⅓ cup peanut butter
⅓ cup soy sauce
¾ lime
¾ tsp red pepper flakes
1 ½ tbsp minced garlic
1 ½ tbsp sesame oil
12 oz linguine
4 green onions
Directions
Step 1

Bring a pot of salted water to boil over medium-high heat.

Step 2

While you're waiting, cut broccoli into florets. Place peanut butter, soy sauce, 4 tsp lime juice, red pepper flakes, garlic and sesame oil in a small bowl. Add 4 tbsp water and whisk together.

In this recipe

6 cups broccoli
⅓ cup peanut butter
⅓ cup soy sauce
¾ lime
¾ tsp red pepper flakes
1 ½ tbsp minced garlic
1 ½ tbsp sesame oil

Step 3

When water boils, add broccoli for 1 minute, until bright green and just tender. Using a slotted spoon, transfer to a large bowl.

Step 4

Bring water back to a boil, then add linguine and cook according to package instructions. Drain and add to bowl.

Step 5

While noodles are cooking, thinly slice green onion.

Step 6

Pour sauce into bowl and toss to coat. Garnish with chopped green onion.