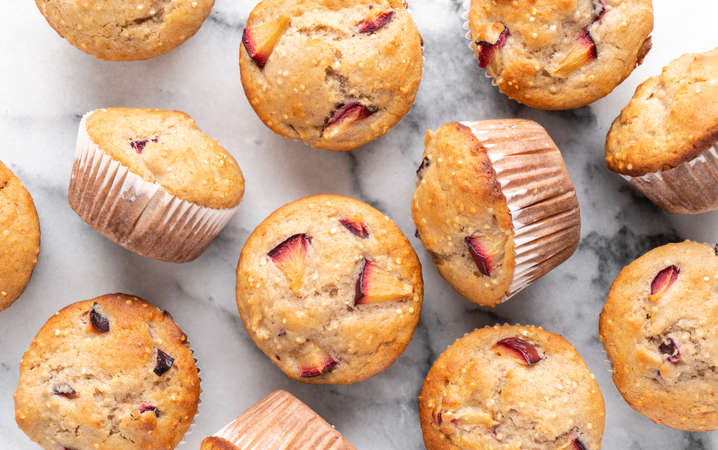 Ingredients
1 cup flour
¾ cup buckwheat flour
¼ cup dry quinoa
1 ½ tsp baking powder
1 tsp cinnamon
½ tsp ground ginger
½ tsp baking soda
½ tsp salt
2 plums
⅓ cup butter
2 eggs
1 cup yogurt
⅓ cup honey
Directions
Step 1

Preheat oven to 400 degrees F. Line 12 muffin cups with paper liners, or grease lightly with oil or spray.

Step 2

In a large bowl, whisk together flour, buckwheat flour, quinoa, baking powder, cinnamon, ground ginger, baking soda and salt.

In this recipe

1 cup flour
¾ cup buckwheat flour
¼ cup dry quinoa
1 ½ tsp baking powder
1 tsp cinnamon
½ tsp ground ginger
½ tsp baking soda
½ tsp salt

Step 3

Cut plums in half and remove pits. Chop 1 plum into bite-sized pieces. Thinly slice 1 plum and set aside. Melt butter.

Step 4

In a separate bowl, whisk together eggs, yogurt, butter and honey. Add mixture to the dry ingredients and gently fold in just until combined. Stir in chopped plum and scrape the bottom to ensure there are no dry clumps.

In this recipe

2 plums
⅓ cup butter
2 eggs
1 cup yogurt
⅓ cup honey

Step 5

Divide batter among prepared muffin cups and top each with 1 to 2 plum slices.

Step 6

Place in the oven and bake 15 to 20 minutes, or until a toothpick inserted into the centers of muffins comes out clean.

Step 7

Cool muffins completely before storing in an airtight container. Keep refrigerated up to 1 week.